A grassroots response to the COVID-19 crisis by restaurant owners and operators in Richmond, VA
An open letter to Richmond Mayor Levar Stoney
Richmond Restaurants United is calling on Mayor Stoney to provide a clear path to reopening restaurants in the City. We are asking for an explicit description of what data will be considered in reopening and how the city plans to interpret it, along with clear guidelines and expectations for each phase of reopening. Richmond restaurants have been living week-to-week for more than two months. What we need is a real, workable plan.
We are asking Mayor Stoney:
To clarify what data is being used, how long it will take to interpret that data, and what criteria will enable each phase of reopening
To give Richmond food and beverage operators a seat at the table to develop Richmond-specific reopening measures and initiatives.
To seek public release of Phase 2, 3 or subsequent Phase guidelines immediately, and to provide timely communication of Richmond-specific guidelines throughout all phases of reopening.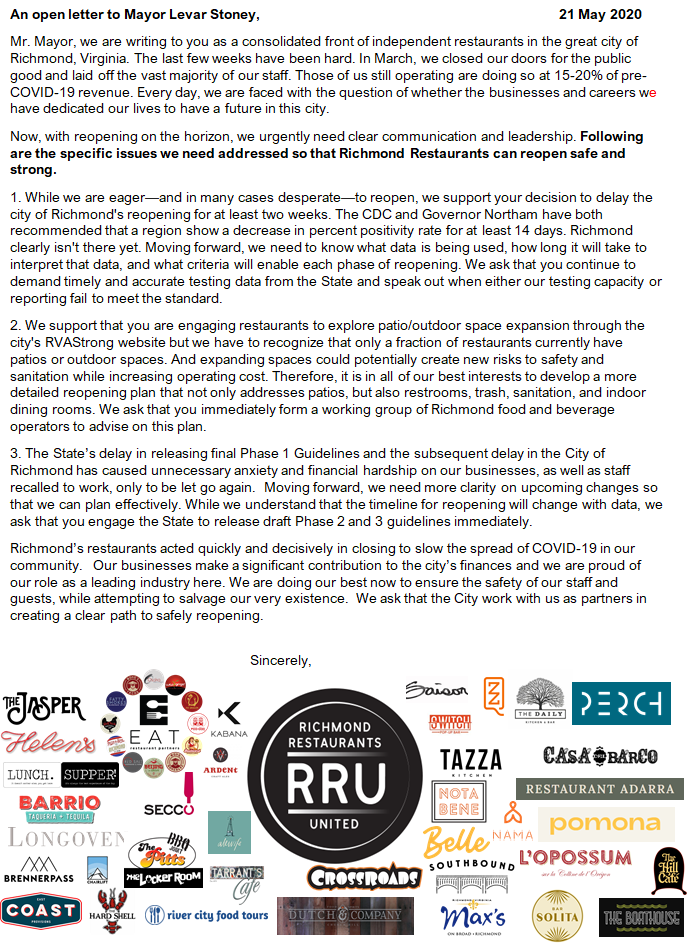 #1: Donate money to a relief fund for restaurant workers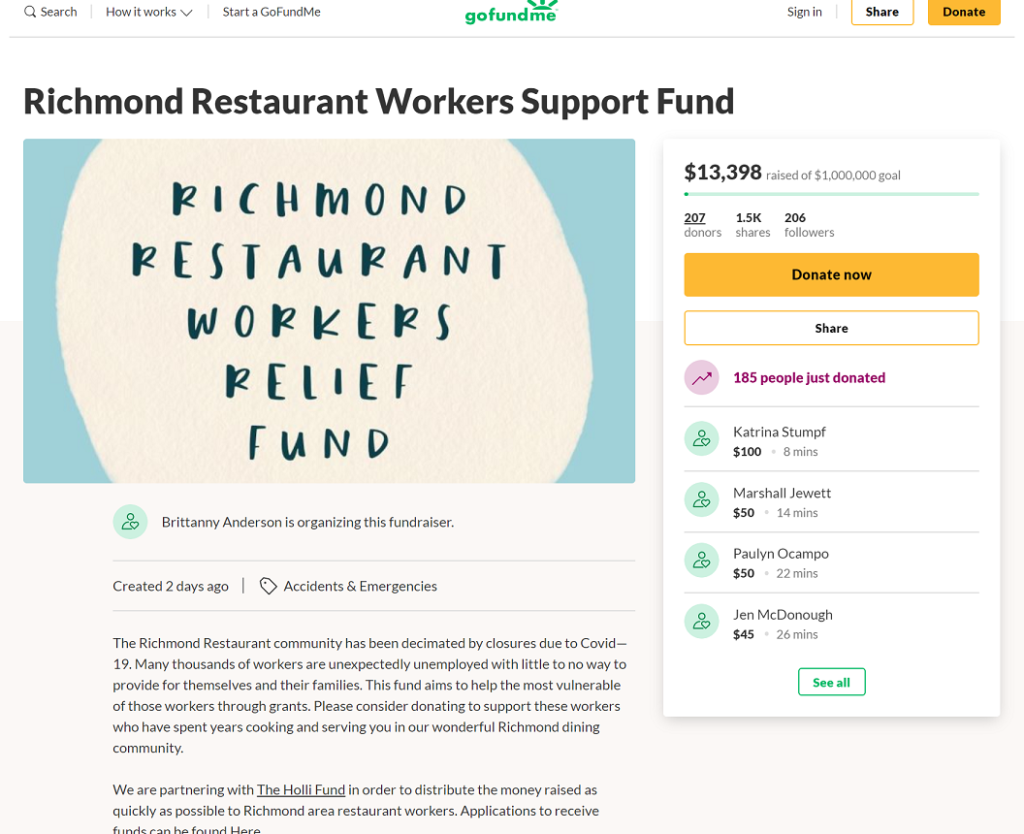 #2. Donate your services or expertise. Are you a designer? Lawyer? Accountant? Real estate professional? Especially if you are local to Richmond, VA and want to help our city's workers or operators, contact us and we will spread your message.
#3. Support your favorite establishments. Everyone is trying to navigate this thing in different ways. Follow the social media pages of your neighbors who own/operate/work at restaurants and look out for them. Also, keepcalmandnomnom.com is a Richmond-area listing of Restaurants promoting gift card sales.
Karri Peifer is keeping a list of restaurants open for takeout and delivery regularly updated over at Richmond.com
#4. Empathize. Restaurants are not just getting hit hard by the pandemic; let's face it, everyone is getting hit hard. But, what is happening to restaurants and restaurant workers now will trickle down to other industries. Now is the time to advocate swift, decisive action by every level of government.
Resources for Restaurant Owners and Operators
Submit a Resource
Please use the below form to submit a link, resource, or inquiry. All submissions will be moderated. Name is optional.