A grassroots response to the COVID-19 crisis by restaurant owners and operators in Richmond, VA
How to Help
#1: Donate money to a relief fund for restaurant workers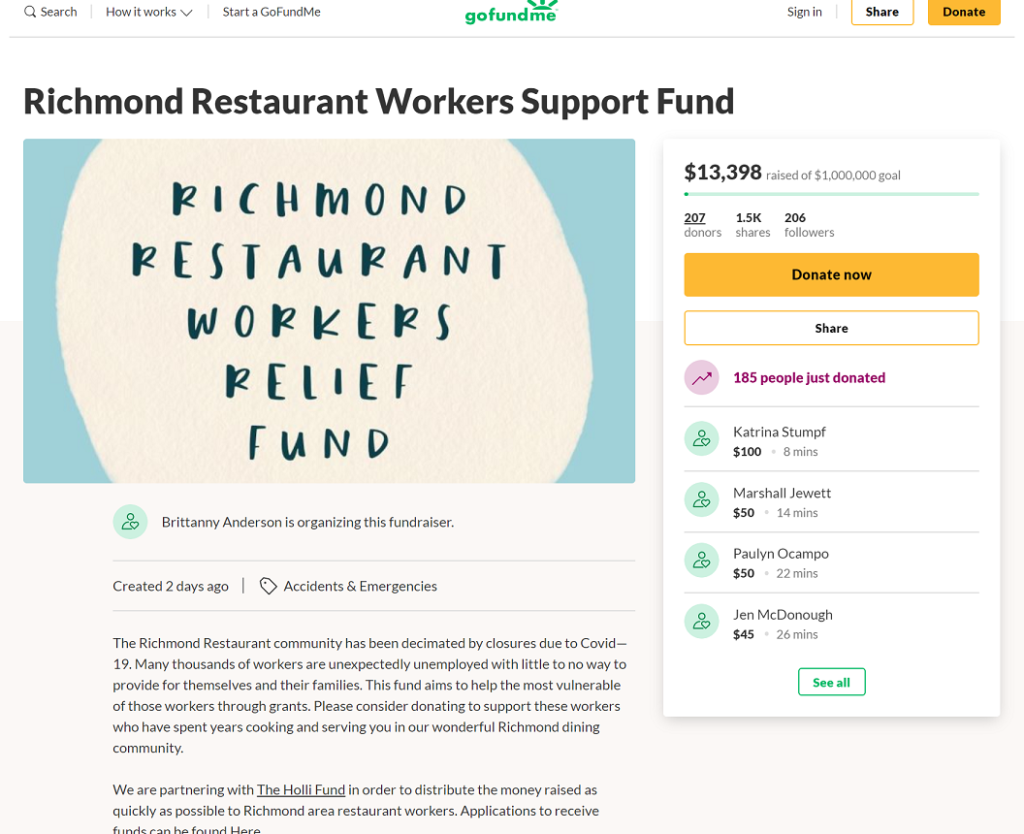 #2. Donate your services or expertise. Are you a designer? Lawyer? Accountant? Real estate professional? Especially if you are local to Richmond, VA and want to help our city's workers or operators, contact us and we will spread your message.
#3. Support your favorite establishments. Everyone is trying to navigate this thing in different ways. Follow the social media pages of your neighbors who own/operate/work at restaurants and look out for them. Also, keepcalmandnomnom.com is a Richmond-area listing of Restaurants promoting gift card sales.
Karri Peifer is keeping a list of restaurants open for takeout and delivery regularly updated over at Richmond.com
#4. Empathize. Restaurants are not just getting hit hard by the pandemic; let's face it, everyone is getting hit hard. But, what is happening to restaurants and restaurant workers now will trickle down to other industries. Now is the time to advocate swift, decisive action by every level of government.
What is Richmond Restaurants United?
On Tuesday, March 17th, 2020, a group of restaurant owners and operators from Richmond, Virginia met to discuss some of the immense challenges facing our industry due to the outbreak of Covid-19. We believe that by consolidating our many voices into one we have more power and a greater ability to influence decision makers in our community and beyond.
The goals of Richmond Restaurants United are:
Alleviate the financial stress placed on our businesses and employees by lobbying our local, state, and national governments for financial assistance.
Advocating for a bold stimulus package to support our industry that includes a wage for our unemployed workers, tentatively called Social Distancing wage.
To support each other and share ideas, advice, and kindness throughout this ordeal.
Our Current plan of action:
Create a website for furloughed workers and business owners alike where they can find links to vetted resources for assistance
Film a public service announcement illuminating our need for help and why this industry and it's workers mean so much to our community.
Create private social media group for owners and operators, as well as for hospitality staff in general to share resources, advice, etc.
Develop relationships with local and national associations and organizations that may be of assistance to the Richmond, VA Restaurant community.
Stay up-to-date with national food & beverage/hospitality developments in order to identify best practices and policy recommendations.
Latest Comments
Hi Dishant, meals tax abatement/freeeze is definitely one of the things a group of us has been lobbying for. With…

You all need to make a coordinated effort to get Henrico county to eliminate the meals tax during these tough…

We have since been working with Karri to update the status of every restaurant. Check it out and let us…

This leads to a broken link

We are also offering commission-free delivery & pickup with direct immediate payments https://orderlina.com/

A friend in the restaurant industry in Ann Arbor told me that they have a Venmo account that people can…

I will point everyone to Karri Peifer's list: https://www.richmond.com/food-drink/restaurant-news/updated-richmond-restaurants-that-are-open-for-takeout-curbside-delivery/article_0b10c6e7-4bd6-5f69-9b4a-4fcb636922a0.html

internet is hard. fixed now!

As far as "#3. Support your favorite establishments." we're trying to support restaurants by ordering take-out a couple times a…

It would be awesome if there was a link to order take out from any restaurant offering it too.
Resources for Restaurant Owners and Operators
Submit a Resource
Please use the below form to submit a link, resource, or inquiry. All submissions will be moderated. Name is optional.